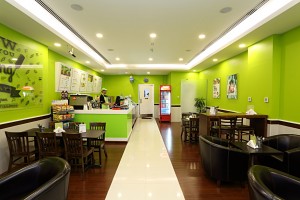 Baguette Express International Master Franchising Opportunities
PROVEN IN THE UK MARKET SINCE 1999 WITH 50 OUTLETS
PROVEN IN DUBAI WITH 4 OUTLETS NOW OPEN
LOW START UP COSTS FOR YOU AND YOUR FRANCHISEES
A BRAND THAT INTEGRATES BEAUTIFULLY INTO NEW MARKETS WITH A SIMPLE ORDERING SYSTEM THAT CUSTOMERS LOVE
A TURN-KEY MODEL THAT CAN ROLL OUT QUICKLY INTO SHOPPING MALLS, PRECINCTS, RESTAURANT QUARTERS, TRAIN STATIONS, AIRPORTS, BUSINESS & UNIVERSITY COMPLEXES
CHOOSE FROM KIOSKS, QUICK SERVICE TAKE AWAYS OR LARGE 100+ SEATER RESTAURANTS
Baguette Express Dubai
Diversifying into the Quick Service Food franchise sector from consumer electronics may seem like an odd move but for Niranjan Gidwani, Deputy CEO of the Eros Group in Dubai it made perfect sense.
Eros Group is one of the top three consumer electronics groups in the Gulf Region.  Niranjan explains: "Eating on the go is on the increase in Dubai which is an international transit hub for some 21 countries.  However, we realized that there were very few options for healthy eating and snacking as an alternative to the fast food burger and chicken outlets.   We therefore started looking for a solution whereby we could introduce healthy, fresh, high quality fast food to the United Arab Emirates."
He added: "As we did not have any experience of the food and beverage sector we looked for a partner with an established brand, solid operational experience and a strong management team. Baguette Express fulfilled all of our criteria and as a turnkey franchise operation we could easily import the concept into Dubai.   That was in November 2013 and we now have four company-owned stores in Dubai, which are performing very well.  We are now aiming to open another three to four outlets this year across the UAE."
"The great thing about the Baguette Express concept is the sheer variety.  We not only offer a huge range of sandwiches, fillings and sauces but we also have soups, salads, pizza and pastas.  We also have a casual dining option in the evening that brings a whole new dimension to the business.  Dubai is very diverse with over 200 nationalities working and living here.  We have therefore adapted the menu to global tastes introducing new recipes such as the chicken tikka baguette."
"The support from the franchisor has been great.  Whenever we opened, senior head office staff spent almost 3 weeks with us in Dubai to ensure all the systems and procedures were set up correctly."
The Baguette Express Brand
Founded in 1999, Baguette Express is a bright, fresh and exciting food on the go brand and a familiar sight in UK towns, cities and shopping malls.
With more than 50 outlets, we offer a large choice of fresh ingredients to be enjoyed in a variety of breads baked daily on the premises, all at one great value price. The business model attracts customers in the morning, afternoon and evening and has multiple revenue streams from breakfast rolls and wraps to salad boxes and coffee. 
The Baguette Express Master Franchise Opportunity
Baguette Express are delighted to be recruiting Master Franchisees and Regional Developers in English speaking countries and high growth markets throughout the world including Ireland, other European countries, Australia, Canada, New Zealand, South Africa, India, the Middle East and beyond.
International Master Franchise Opportunities
With the comprehensive back up and support of our Head Office team and proven operational, EPOS and marketing systems, Master Franchisees will develop the Baguette Express brand in your country or region, using your local knowledge and expertise to successfully expand the brand through franchising.
Operate, sell and develop multiple Baguette Express franchises within your dedicated country or region
Master Franchise Fees vary depending on country or region and market potential
Generate multiple revenue streams through the profits from your own outlets, the sale of franchises to others, and monthly management fees generated within your franchise network
You will be required to have sufficient working capital to fund the initial Master Franchise Fee, the set up of your own pilot operation, as well as the ongoing resource required to develop your network of franchises within a specified country or region.
International Regional Developer Opportunities
Not interested in sub franchising to others?  The why not build your own network of managed Baguette Express stores in a dedicated region, with the comprehensive back up and support of our Head Office team and proven operational, EPOS and marketing systems.
Join Us!
Successful master franchisees and area developers are typically:
Master franchisees or area developers for other franchise brands who wish to expand their portfolio with the food sector or indeed enter a new sector
Those with a proven track record of running a successful business however who may not have considered franchising before
Those who have a passion for providing great quality products and delivering amazing customer service
Those who have the time, energy and financial resource to successfully build the Baguette Express brand in their country or region
Contact Us
Take your first step towards bringing the Baguette Express brand to your country or region by emailing our international franchisee recruitment team at suzie@platinumwave.co.uk and requesting an International Franchise Prospectus