Enjoy the return our famous and ever popular Festive Baguette. Indulge yourself over the months of November and December with our freshly baked baguette filled full of traditional mouth watering turkey, sweet cranberry sauce and sage and onion stuffing. Not one to be missed this winter!
Vegetarians can substitute the succulent turkey filling for slices of creamy brie, so no-one has to miss out on this most anticipated seasonal treat!
(N.B. always check with your local outlet that they are serving a meat free stuffing)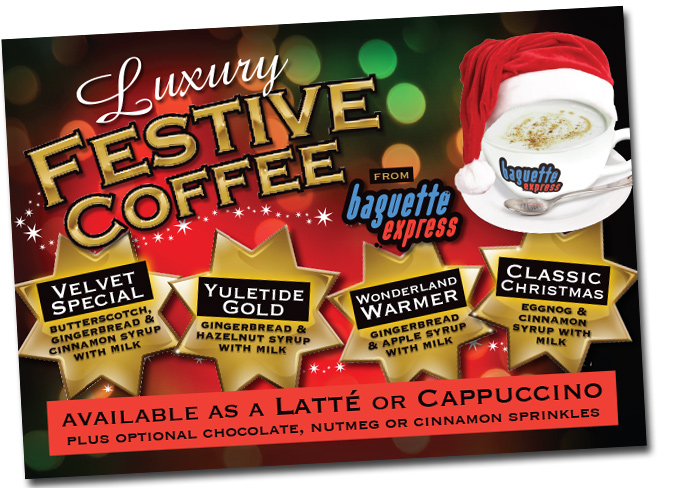 Check out our fantastic Luxury Festive Coffee recipes at your local outlet. Choose from our great range of Seasonal temptations including –
Velvet Special – butterscotch, gingerbread and cinnamon syrup
Yuletide Gold – Gingerbread and Hazelnut syrup
Wonderland Warmer – Gingerbread and apple syrup
Classic Christmas – Eggnog and cinnamon syrup
All served with hot steaming milk and our high quality bean to cup coffee, sourced from the finest regions in the world. Our delicious coffee is blended from 100% Arabica beans, slow roasted for you to enjoy at any time of day.
If you are not into Coffee try our scrumptious Creamy Hot Chocolate, ideal for those cold and frosty mornings or cosy afternoons. Ask staff if they can make you one of our yummy Chocolate Royals for that extra indulgence complete with marshmallows, whipped cream and chocolate sprinkles!
Don't forget pick up a wee cake to accompany it while you wait on us freshly preparing your hot cuppa – after all it is the season to be jolly!!
(participating outlets only)